No fear! Learn respectful beekeeping.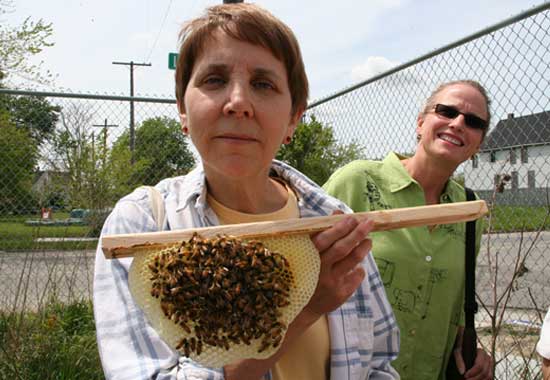 "Introduction to Beekeeping" is our six-hour workshop that introduces you to the first year of beekeeping. Think of it as Green Toe Gardens' "waggle dance": an opportunity to orient yourself to the realities of beekeeping in our urban and suburban northern climate. Instructors Joan Mandell and Rich Wieske discuss bee biology, beekeeping history, plants and human health, and where to get bees and beekeeping equipment. You'll learn how to choose hive locations, how to build a hive and how to approach your neighbors.
Whether you want to have your own hive, be mentored in our apiary or just learn how beekeepers work, "Introduction to Beekeeping" is for you. And it is a pre-requisite for all our hands-on classes.
Click here to download information on "Introduction to Beekeeping" and all hands-on classes, in printable PDF format.
Class details and updates are also found in the calendar below. Click on class titles.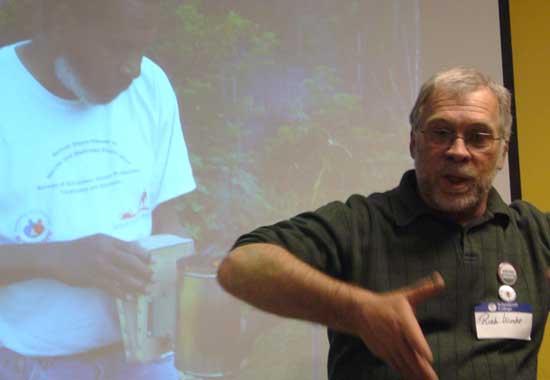 Need specialized help at your home apiary?  Make an appointment with a Green Toe Gardens bee doctor. There will be a $100 fee per 60-90 minute visit. No primary care physician referral necessary!

Workshops at Schools and Clubs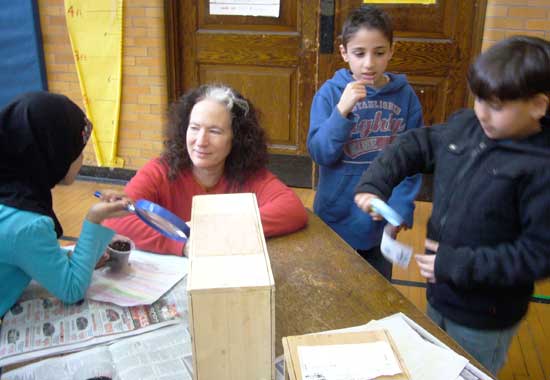 Bringing bees and beekeeping to you! Invite us to give a presentation or interactive workshop for K-12, college & university, club or event. Support our work in environmental education in the public schools.
Among our topics: Beekeeping 101, honey and health, urban/suburban beekeeping, beekeeping and urban agriculture in Detroit's economy, pollinator-friendly gardens, advanced natural beekeeping and "what you can do to help the bees". Season permitting, we may bring along a live bee observation hive.
Contact Us
Workshops at schools, universities, summer camps, libraries, garden and bee clubs.
Contact Us