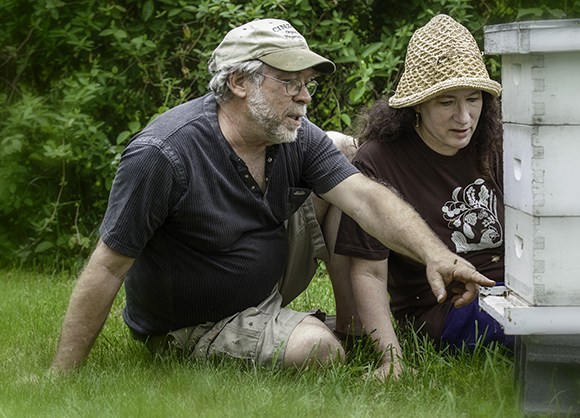 About Us, the Pollinators & the Planet
Green Toe Gardens
was planted and grown from the backyard and fertile imagination of Joan Mandell and Rich Wieske. When Rich started keeping bees about 15 years ago, the duo added honey and mead to their gifts of garden goodies for friends and family. What began as Joan's handmade label for a homemade gift became publicly known as "Wild Detroit Honey".
Today Green Toe Gardens has 100 bee hives dotting Detroit and inner ring suburbs to connect city and suburban folk to nature.  We place the hives in our neighbor's yards, at schools, in community gardens and urban farms.
Our goal is to nurture the "three p's": people, pollinators and the planet, as part of the international movement for a healthy eco-system and food security. Our backgrounds and commitment to community-based teaching stem from years of experience as educators, activists and documentary filmmakers.
We offer beekeeping services (helping you to host a hive) and creative services (photography, writing and graphic design.)